Chevrolet Equinox Owners Manual: Tow/Haul Mode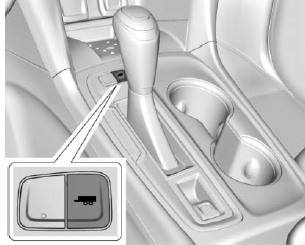 This feature can assist when towing or hauling a heavy load.

: Select Tow/Haul Mode by pressing the button on the center console.
When Tow/Haul is activated, the Tow/Haul symbol will come on in the instrument cluster. A Tow/Haul ON message will also appear in the DIC. For vehicles equipped with AWD, the AWD indicator will also appear ON. See Driving Characteristics and Towing Tips.
Automatic Engine Grade Braking
Automatic Engine Grade Braking assists when driving downhill.
It maintains vehicle speed by automatically implementing a shift pattern that uses the engine and the transmission to slow the vehicle.
The system will automatically command downshifts to reduce vehicle speed. The normal shift pattern will return once the vehicle is on a low grade or when the accelerator pedal is pressed.
While in the Electronic Range Select (ERS) mode, grade braking is deactivated, allowing the driver to select a range and limiting the highest gear available. Grade braking is available for normal driving and in Tow/Haul Mode.
See Automatic Transmission.