Chevrolet Equinox Service Manual: Rear Mud Flap Package Installation Moldings
Installation Instructions Part Number
19202379
Note:Please read instructions thoroughly before starting.
Rear Mud Flap Kit Contents

Item No.

Qty

Description

1

1

Left Hand Mud Flap

2

1

Right Hand Mud Flap

3

6

#10 Spring Clips

4

6

#10 x 3/4" Screws

5

2

Alcohol Wipes

7

Installation Instructions
Tools Required#2 Phillips ScrewdriverDrill¼ (6.3mm) Drill BitFlat Blade ScrewdriverClean Cloth/RagInstallation Procedure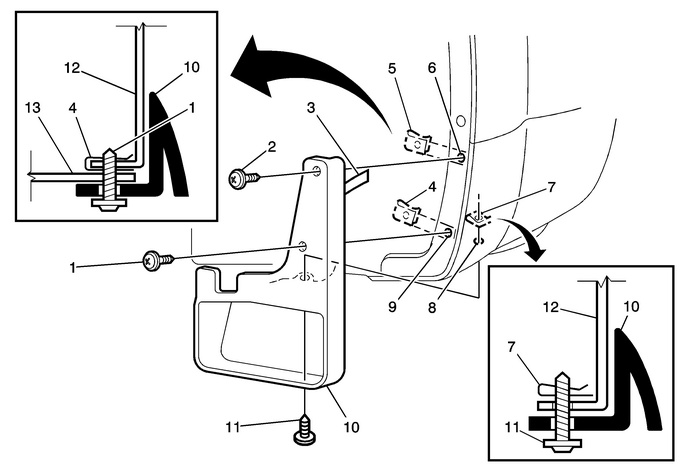 Clean and degrease body panel-(12) where rear mudflaps-(10) are to be located.Using 50% alcohol and water, clean area to be taped.
Note:Parts and vehicle temperature must be between 61°Fand 86°F (16°C and 31°C).
Remove existing push-pin from mountinghole-(9)
Note:Install supplied spring clips with turned up edge on insideof panel edge.
Pull liner-(13) forward and install suppliedspring clip-(4) over mountinghole-(9).Mount rear mud flap-(10) and position inner tabbehind liner-(13). Installed suppliedscrew-(1) to mounting hole-(9), while holdingrear mud flap-(10) up and into bodypanel-(12).While holding rear mud flap-(10) firmly againstbody panel-(12), mark and drill ¼"(6.2mm) mounting holes in location-(6),(8), use rear mudflap-(10) as template.Install supplied screws-(2),(11) to mountingholes-(6),(8), use spring clips-(5),(7) asnuts. Tighten screws-(1),(2),(11) while holding rear mudflap-(10) firmly against bodypanel-(12).Push rear mud flap-(10) forward and pull tapeliner off using tab-(3) and apply twenty to thirtypounds of pressure along tape length to ensure contact.Repeat procedure for other side.
Note:Mud flaps can be cleaned with any commercially availablecleaner.