Chevrolet Equinox Service Manual: Pictures Entertainment Audio-Visual
Pictures can only be viewed using USB devices. If pictures are on an SD card, transferto a USB device or use a USB-SD adapter. A maximum 5Mb uncompressed photo size issupported, however to achieve this, use a 4 Megapixel or lower resolution camera setting.Only jpeg, bmp, gif, and png files are supported.
Press the Pictures screen button on the Home Page.The system does a search to find the picture folders. A "Please wait" message displays until the search is finished.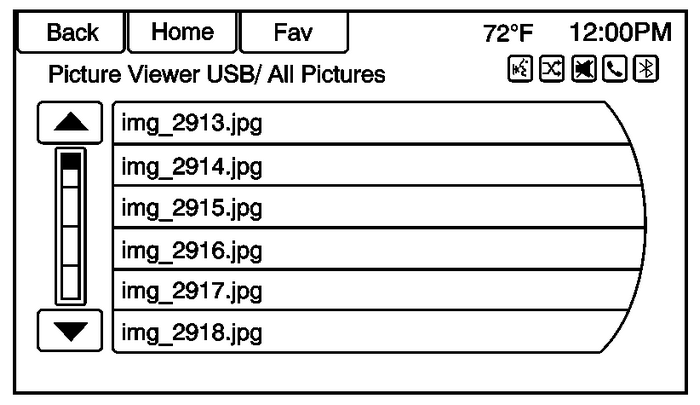 72f12:00pmpictureviewerusbiallpicturesimg_2913.jpgimg_2917.jpgimg_2914.jpgimg_2915.jpgimg_2918.jpg
A list displays. Select a picture to view.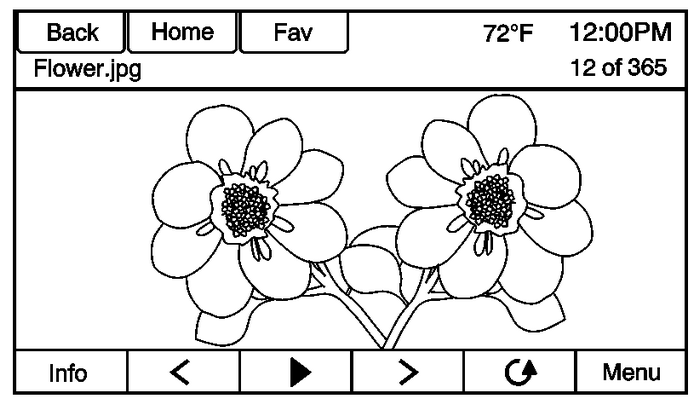 Once a picture displays, the following options are available:Info (Information)
Press to turn file name information on or off.
S (Previous)
Press to display a previous picture if not in slide show mode.
r (Toggle Modes)
Press to toggle between slide show mode and manual mode.
T (Next)
Press to display a next picture if not in slide show mode.
E (Rotate)
Press to manually rotate a picture 90 degrees counterclockwise.
Menu
Press to open the Picture Viewer Settings screen. Slide Picture Viewer Main, Slideshow Timer, and Shuffle Images display as options for configuring theview of images stored in the system.
If the displayed picture screen is not used within six seconds, the upper and lowerbar options will disappear. Touch-tap the screen to re-display the upper and lowerbar.