Chevrolet Equinox Owners Manual: Front Wiper Blade Replacement
To replace the wiper blade:
Pull the wiper assembly away from the windshield.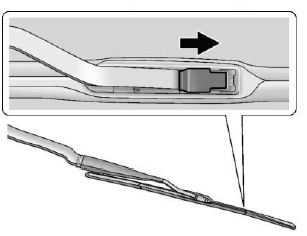 Lift up on the latch in the middle of the wiper blade where the wiper arm attaches.
With the latch open, pull the wiper blade down toward the windshield far enough to release it from the J-hooked end of the wiper arm.
Remove the wiper blade.
Reverse Steps 1-3 for wiper blade replacement.