Chevrolet Equinox Owners Manual: Rear Wiper Blade Replacement
The rear wiper blade and wiper arm have a cover for protection.
To remove the cover:

Slide a plastic tool under the cover and push upward to unsnap.
Slide the cover toward the wiper blade tip to unhook it from the blade assembly.
Remove the cover.
After wiper blade replacement, ensure that the cover hook slides into the slot in the blade assembly.
Snap the cover down to secure.
To replace the wiper blade:
Lift the wiper arm away from the windshield.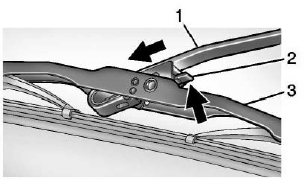 Push the release lever (2) to disengage the hook and push the wiper arm (1) out of the blade assembly (3).
Push the new blade assembly securely on the wiper arm until the release lever clicks into place.