Chevrolet Equinox Owners Manual: Remote Keyless Entry (RKE) System
The Remote Keyless Entry (RKE) transmitter may work up to 60m(197 ft) away from the vehicle.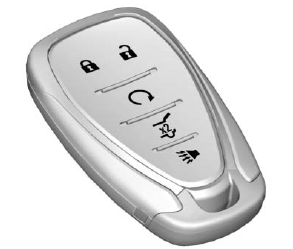 With Remote Start and Power Liftgate Shown
Press the button on the side to remove the key. The key can be used for all locks.

: Press to unlock the driver door or all doors depending on vehicle personalization settings.
For vehicles with the manual liftgate, press

twice within five seconds to unlock the liftgate.

: Press to lock all doors.
Lock and unlock feedback can be personalized. See Vehicle Personalization.

: If equipped with the power liftgate, press twice quickly until the liftgate begins to move.

: Press and release to initiate vehicle locator. Press and hold for at least three seconds to sound the panic alarm. Press

again to cancel the panic alarm.

: Press

and release and then immediately press and hold

for at least four seconds to start the engine from outside the vehicle.
See Keys and Remote Keyless Entry (RKE) System Operation.