Chevrolet Equinox Owners Manual: Power Outlets
The vehicle has three 12-volt accessory power outlets, which can be used to plug in electrical equipment, such as a cell phone or MP3 player.
There are power outlets:
On the center stack below the climate control system.
On the rear of the center floor console.
In the rear cargo area.
To use the outlet, remove the cover.
Caution Leaving electrical equipment plugged in for an extended period of time while the vehicle is off will drain the battery. Always unplug electrical equipment when not in use and do not plug in equipment that exceeds the maximum 20 amp rating.
Warning Power is always supplied to the rear cargo power outlet. Do not leave electrical equipment plugged in when the vehicle is not in use because the vehicle could catch fire and cause injury or death.
Certain accessory plugs may not be compatible with the accessory power outlet and could overload vehicle and adapter fuses. If a problem is experienced, see your dealer.
When adding electrical equipment, be sure to follow the proper installation instructions included with the equipment. See Add-On Electrical Equipment.
Caution Hanging heavy equipment from the power outlet can cause damage not covered by the vehicle warranty. The power outlets are designed for accessory power plugs only, such as cell phone charge cords.
Power Outlet 110/120 Volt Alternating Current
If equipped, this power outlet can be used to plug in electrical equipment that uses a maximum limit of 150 watts.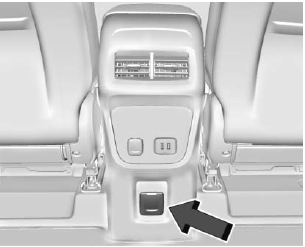 The power outlet is on the rear of the center console.
An indicator light on the outlet turns on to show it is in use. The light comes on when the ignition is on and equipment requiring less than 150 watts is plugged into the outlet, and no system fault is detected.
The indicator light does not come on when the ignition is off or if the equipment is not fully seated into the outlet.
If equipment is connected using more than 150 watts or a system fault is detected, a protection circuit shuts off the power supply and the indicator light turns off. To reset the circuit, unplug the item and plug it back in or turn the Retained Accessory Power (RAP) off and then back on. See Retained Accessory Power (RAP). The power restarts when equipment using 150 watts or less is plugged into the outlet and a system fault is not detected.
The power outlet is not designed for the following and may not work properly if they are plugged in:
Equipment with high initial peak wattage, such as compressor-driven refrigerators and electric power tools.
Other equipment requiring an extremely stable power supply, such as microcomputer-controlled electric blankets and touch sensor lamps.
Medical equipment.