Chevrolet Equinox Owners Manual: Instrument Panel Fuse Block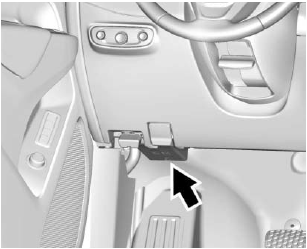 The instrument panel fuse block is under the instrument panel on the driver side.
To access the fuses, press and release the latch near the top center square.
Apply pressure to the two retaining tabs on the sides of the cover, until the two retaining tabs clear the sides of the instrument panel. Allow the panel to move downward and out of the way.
To reinstall the cover, reverse the steps.
The vehicle may not be equipped with all of the fuses and relays shown.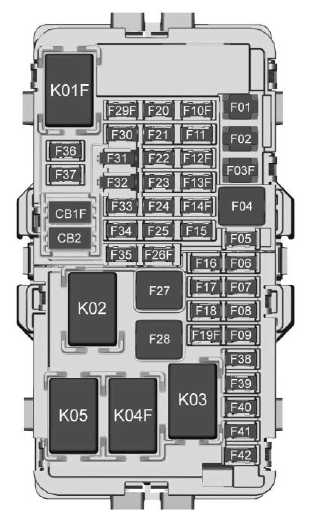 | | |
| --- | --- |
| Fuses | Usage |
| F01 | DC AC inverter |
| F02 | Front windows |
| F03 | Trailer brake |
| F04 | Heating ventilation and air conditioning blower |
| F05 | Body control module 2 |
| F06 | Cyber security |
| F07 | - |
| F08 | Body control module 3 |
| F09 | Amplifier |
| F10 | - |
| F11 | - |
| F12 | - |
| F13 | - |
| F14 | Electronic shifter |
| F15 | Transmission control module |
| F16 | Front heated seats |
| F17 | Left data link connector |
| F18 | Body control module 7 |
| F19 | Exterior rearview mirror |
| F20 | Body control module 1 |
| F21 | Body control module 4 |
| F22 | Body control module 6 |
| F23 | Electric steering column lock |
| F24 | Sensing and diagnostic module |
| F25 | Occupancy sensor |
| F26 | - |
| F27 | Power seats |
| F28 | Rear windows |
| F29 | - |
| F30 | Front heated seats |
| F31 | Steering wheel controls |
| F32 | Body control module 8 |
| F33 | Heating ventilation and air conditioning |
| F34 | Passive entry, passive start |
| F35 | Liftgate latch |
| F36 | Shift charger |
| F37 | Cigar lighter |
| F38 | OnStar |
| F39 | Instrument panel USB |
| F40 | Camera module/ Liftgate module |
| F41 | Parking assist module |
| F42 | Radio |
| | |
| --- | --- |
| Relays | Usage |
| K01 | Deadbolt |
| K02 | Retained accessory power |
| K03 | Liftgate |
| K04 | - |
| K05 | Logistics |
| CB1 | Front auxiliary power outlet |
| CB2 | Auxiliary power outlet console |