Chevrolet Equinox Owners Manual: Brake System Warning Light
The vehicle brake system consists of two hydraulic circuits. If one circuit is not working, the remaining circuit can still work to stop the vehicle. For normal braking performance, both circuits need to be working.
If the warning light comes on, there is a brake problem. Have the brake system inspected right away.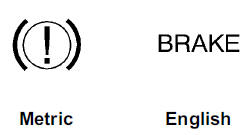 This light should come on briefly when the engine is started. If it does not come on then, have it fixed so it will be ready to warn you if there is a problem.
If the light comes on and stays on, there is a brake problem.
Warning The brake system might not be working properly if the brake system warning light is on.

Driving with the brake system warning light on can lead to a crash. If the light is still on after the vehicle has been pulled off the road and carefully stopped, have the vehicle towed for service.