Chevrolet Equinox Owners Manual: Automatic Headlamp System
When the exterior lamp control is set to AUTO and it is dark enough outside, the headlamps come on automatically.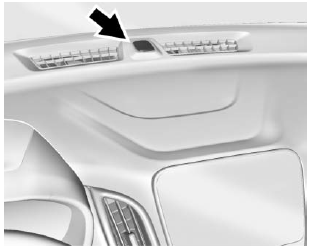 There is a light sensor on top of the instrument panel. Do not cover the sensor; otherwise the headlamps will come on when they are not needed.
The system may also turn on the headlamps when driving through a parking garage or tunnel.
When it is bright enough outside, the headlamps will turn off or may change to Daytime Running Lamps (DRL).
The automatic headlamp system turns off when the exterior lamp control is turned to

or the ignition is off.
Lights On with Wipers
If the windshield wipers are activated in daylight with the engine on, and the exterior lamp control is in AUTO, the headlamps, parking lamps, and other exterior lamps come on. The transition time for the lamps coming on varies based on wiper speed. When the wipers are not operating, these lamps turn off.
Move the exterior lamp control to

or

to disable this feature.