Chevrolet Equinox Service Manual: #PIT5030E: Diagnostic Tip - Intermittent No Crank When Ignition Key Is Turned To The Crank Position - (May 2, 2013) Ignition System
Subject:
Diagnostic Tip - Intermittent No Crank When Ignition Key Is Turned To The Crank Position

Models: 
2010 - 2014 Buick LaCrosse, Regal
2012 – 2014 Buick Verano (Without RPO BAH Or ATH)
2013 – 2014 Buick Encore
2013 – 2014 Chevrolet Trax (Canada only)
2010 - 2014 Chevrolet Camaro, Equinox
2011 - 2014 Chevrolet Cruze
2012 - 2014 Chevrolet Sonic
2010 - 2014 GMC Terrain
This PI was superseded to update models, model years and add customer informationstatement. Please discard PIT5030D.
The following diagnosis might be helpful if the vehicle exhibits the symptom(s) describedin this PI.
Condition/Concern
Customers may comment on an intermittent no crank. The design of the key and fob isto have the key extended straight out. If the key is not in the fully locked positionand the head of the key is angled down, the vehicle may not crank. This may be causedby the customer contacting the release button on the fob when inserting the key intothe ignition.
Recommendation/Instructions
If the vehicle will not crank, remove the key and make sure it is fully extended.Reinsert the ignition key in the extended straight out position and turn to crankengine. Reference photos below.
Note:This condition can set DTC B3055 (No Transponder or Modulation) in history. Clearthe B3055 from history and recheck keys that are learned to verify keys are operatingcorrectly.
Incorrect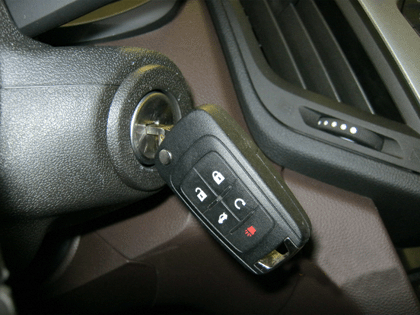 Correct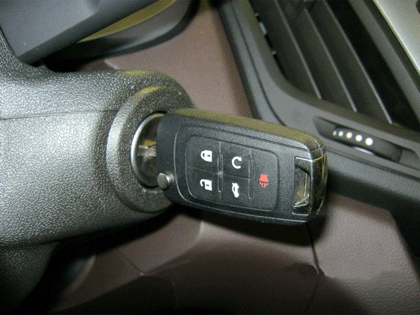 Customer Information
Please share this information with the customer. Please be sure to fully extend andlock the ignition key PRIOR to inserting the key into the ignition switch and attemptingto start the vehicle - as reflected in the photos above.
Please follow this diagnostic or repair process thoroughly and complete each step.If the condition exhibited is resolved without completing every step, the remainingsteps do not need to be performed.
| | | |
| --- | --- | --- |
| GM bulletins are intended for use by professional technicians,NOT a "do-it-yourselfer".  They are written to inform thesetechnicians of conditions that may occur on some vehicles, or toprovide information that could assist in the proper service of avehicle.  Properly trained technicians have the equipment,tools, safety instructions, and know-how to do a job properly andsafely.  If a condition is described, DO NOT assume that thebulletin applies to your vehicle, or that your vehicle will havethat condition.  See your GM dealer for information on whetheryour vehicle may benefit from the information. | | WE SUPPORT VOLUNTARY TECHNICIAN CERTIFICATION |