Chevrolet Equinox Service Manual: #PI0058A: Rear Side Door Window Glass Binds - (Oct 1, 2013) Doors
Subject:
Rear Side Door Window Glass Binds

Models: 
2010-2014 Chevrolet Equinox
2010-2014 GMC Terrain
This PI has been revised to add 2011-2014 model years, update the Warranty Informationand change the Labor Operation to the Global Labor Code (GLC). Please discard PI0058.
Condition/Concern
Some customers may comment that the left and/or right rear side door window glassbinds when being raised or lowered.
This bind condition may be caused by the window glass being out of alignment. If thewindow glass is too far rearward in the vehicle, it may bind when being raised orlowered.
Recommendation/Instructions
Important:Do not replace the window regulator assembly to correct this condition.
Use the following procedure to align the rear side door glass to correct the bindcondition.
Place the affected window in the fully down position.Remove the rear door trim panel. Refer to Rear Side Door Trim Panel Replacement inSI.Remove the rear side door water deflector.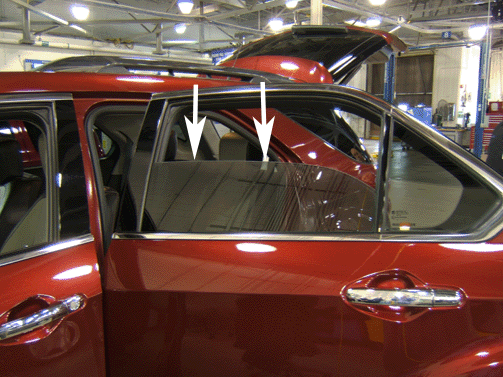 Position the window to access the rear side door window regulator guide nuts (approximatelyhalf way down).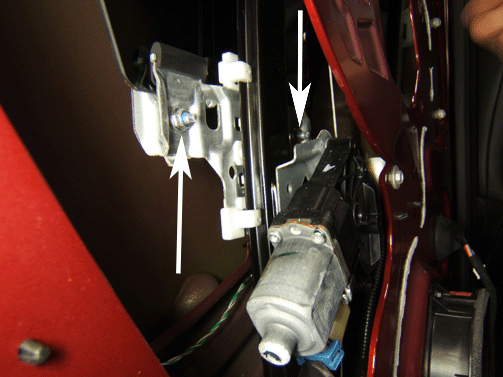 Loosen the regulator guide nuts but do not remove the nuts.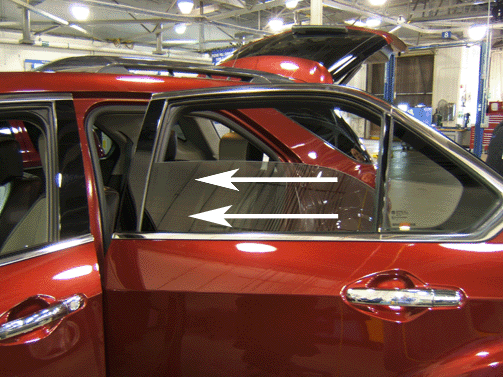 With the window glass in this position (approximately half way down), position theglass as far forward in the door as possible.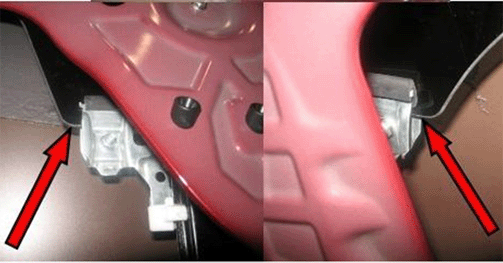 Ensure that the glass is positioned as shown with an equal area exposed rearward ofthe rear glass clamp and forward of the front glass clamp.Raise the window glass regulator to the full up position.
Tighten
Tighten the regulator nuts to 11-Y (98-lb-in).Cycle the window glass at least five times and verify that the condition is corrected.Reinstall the rear side door water deflector.Reinstall the rear door trim panel. Refer to Rear Side Door Trim Panel Replacementin SI.
If the condition is present on both rear side doors, repeat the procedure on the oppositedoor.
Warranty Information
For vehicles repaired under the U.S (3 years/36,000 miles) or Canadian (3 years/60,000km) Bumper-to-Bumper Warranty, use:
Labor Operation

Description

Labor Time

2080078*

Rear Side Door Window – Align

0.4-hr

Add

For Both Doors

0.4-hr

*This is a unique labor operation for bulletin use only. It will not be publishedin the Labor Time Guide.
| | | |
| --- | --- | --- |
| GM bulletins are intended for use by professional technicians,NOT a "do-it-yourselfer".  They are written to inform thesetechnicians of conditions that may occur on some vehicles, or toprovide information that could assist in the proper service of avehicle.  Properly trained technicians have the equipment,tools, safety instructions, and know-how to do a job properly andsafely.  If a condition is described, DO NOT assume that thebulletin applies to your vehicle, or that your vehicle will havethat condition.  See your GM dealer for information on whetheryour vehicle may benefit from the information. | | WE SUPPORT VOLUNTARY TECHNICIAN CERTIFICATION |