Chevrolet Equinox Owners Manual: Lane Keep Assist (LKA) Light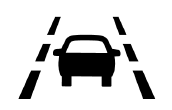 This light is green if LKA is available to assist.
LKA may assist by gently turning the steering wheel if the vehicle approaches a detected lane marking without using the turn signal in that direction. The LKA light will turn amber.
This light is amber and flashes as a Lane Departure Warning (LDW) alert, to indicate that the lane marking has been crossed.
See Lane Keep Assist (LKA).