Chevrolet Equinox Owners Manual: How to Wear Seat Belts Properly
This section is only for people of adult size.
There are special things to know about seat belts and children, and there are different rules for smaller children and infants. If a child will be riding in the vehicle, see Older Children or Infants and Young Children. Follow those rules for everyone's protection.
It is very important for all occupants to buckle up. Statistics show that unbelted people are hurt more often in crashes than those who are wearing seat belts.
There are important things to know about wearing a seat belt properly.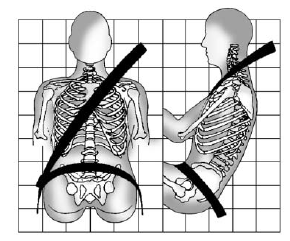 Warning You can be seriously injured, or even killed, by not wearing your seat belt properly.
Never allow the lap or shoulder belt to become loose or twisted.
Never wear the shoulder belt under both arms or behind your back.
Never route the lap or shoulder belt over an armrest.