Chevrolet Equinox Service Manual: #06-08-51-005C: Information on Hem Flange Sealer for Corrosion Protection - (Oct 30, 2013)
Subject:
Information on Hem Flange Sealer for Corrosion Protection

Models: 
2014 and Prior GM Cars and Trucks
Attention: 
Please direct this bulletin to the Body Shop or any areas of your dealership wheresheet metal replacement or corrosion repairs take place.
This bulletin has been revised to add the 2014 model year and update product information.Please discard Corporate Bulletin Number 06-08-51-005B.
Replacement Sheet Metal
Metal or aluminum overlap joints and seams, commonly referred to as hem flanges, onreplacement doors, hoods, decklids and liftgates should be sealed to prevent moisturefrom entering the bonded hem flange using a quality 2K sealer such as the followingproducts, or equivalent:
Lord Fusor 123 or 123EZ Non-Sag Seam Sealer3M 8308 Ultrapro sealer or 3M 8323 Factory Match sealerCrest CT-NT Thick-n-TanCrest CB-M1 Black Majik or CB-J2 Black JackKent E-6000 Non-Sag seal sealer
The applied sealer must meet the following criteria:
The sealer must be free of skips using a ribbon tip to locate the bead over the edgeof the hem. Refer to the following illustration.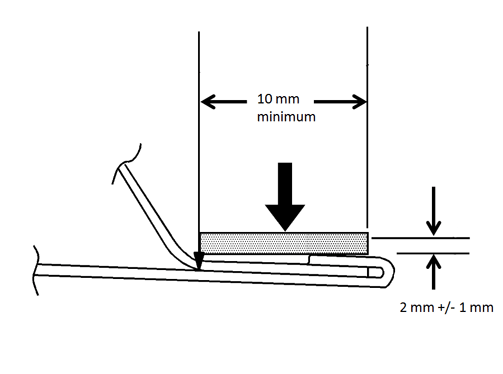 mmminimum
The sealer must cover all edges with a bead width of approximately 10-mm (0.39-in)and approximately 2-mm (0.08-in) thick.The sealer must be paintable.The sealer must retain its flexible characteristics after curing.The sealer must not block a water drain path.
Always use Genuine GM replacement sheet metal.
| | | |
| --- | --- | --- |
| GM bulletins are intended for use by professional technicians,NOT a "do-it-yourselfer".  They are written to inform thesetechnicians of conditions that may occur on some vehicles, or toprovide information that could assist in the proper service of avehicle.  Properly trained technicians have the equipment,tools, safety instructions, and know-how to do a job properly andsafely.  If a condition is described, DO NOT assume that thebulletin applies to your vehicle, or that your vehicle will havethat condition.  See your GM dealer for information on whetheryour vehicle may benefit from the information. | | WE SUPPORT VOLUNTARY TECHNICIAN CERTIFICATION |